Oct. 23, 2018 Lucidimine – 3rd Use
Took one lucidimine tablet at 12:30 PM and had a nap for about one hour, but did not have a lucid dream. Did dream but could not recall the content. Disappointed!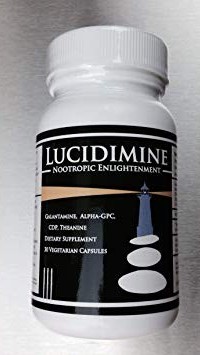 Oct. 24, 2018 Lucidimine – 4th Use

Took one lucidimine tablet at 6:30 AM, but was still wide awake at 9:0 AM and got up. Couldn't stop thinking of my wife's best friend in Guangzhou who was told she had cancer in Feb, 2018; had chemotherapy; and a breast removed. At a second 3 month check-up she was told that the Cancer had reappeared in her lung, liver and bones. She is 48 years old and had attended nursing school with my wife, but went on to be a bookkeeper. A common prognosis for this type of cancer is 6 months to a year. She has yet to tell her daughter and parents the results.
I have decided to postpone using Lucid Dream Supplements for a couple of weeks (as suggested by some researchers).
Nov.1, 2018 Ancestral Lucid Dream of Great-Uncle Joe George and 2nd Cousin Jerome (Jerry) George
My passion for researching Humbke Family History and developing Lucid Dreaming Skills are, what I believe to be, the prime reasons for having this Lucid Dream.
The oldest two Humbke girls (Sophie & Winnie) had married German farm boys (a Conradi and a Callies) in the United States and their older brother (Ernest Sr., my Grandfather) had arranged for a wife who was born in the same German Village (Windheim) as him to come to Canada to be his wife in 1902.
The next daughter was to marry Joe George, an individual of English ancestry who was born in Quebec, Canada (1880).
In my lucid dream I met Joe, about 21 years old, for the first time when he was a young English-speaking farm boy who was musical, physically energetic, and ambitious. He loved breaking horse, had an interest in boxing and a passion to have a large family on the prairies. .
I was 15 and at my Great Grandmother's homestead when Joe came by one day to ask my Great-Grandmother how much she would charge to board a friend of his who wanted to come and see what life was like on a homestead in the NorhWest Territories. She told him she would do it for $4 dollars a week.
                                                                           Joe and Mary GEORGE

It was the beginning of a courting between him and my Grandfather's, sister Mary, that ended in marriage in 1903 and the birth of 8 boys and 3 daughters – a farming and musical dynasty.

Nov. 5, 2018 Flying in a Lucid Dream

Before having this dream, I consumed a cup of Mugwort Tea which has been used for centuries to stimulate vivid dreams. It seemed to work and I will try it again.
It is with great joy, I report that I am again flying in my dreams after a 50-year absence. The difference is that this time it was in a lucid dream and due to smart technology I have been reading about.
Research over the years has lead to results where both my dream and awake worlds function as per the beliefs I hold. The functioning of both the conscious and subconscious depend on what one ends up believing is possible.
In the dream a small device containing a propeller which allowed me to jump of tall buildings and fly of in any direction I wished. No one knew how the device worked and there was a downside. An embedded chip enabled the government to know exactly who and how each device was being used, and could disconnect the power at any time.
Since I knew I was in a lucid dream and could come to no harm I was having the time of my life.
Nov 11 & 18, 2018 Lucid Dreams of conversations with others
These two dreams were conversation with other individuals about how researching and reading certain subjects eventually affects both our conscious and subconscious minds. The subjects being discussed were:
1. Education as interchangeable roles of facilitator and learner.
2. Intergenerational and interclutural relationships between individuals.
3. Financial investments to ensure security of mind and independence.
In both case I was very much aware I was dreaming and spoke in a very low voice to keep from waking my wife. I also attempted to take notes for reference when I awoke, but that turned out to be an illusion.
I did awake with a stronger conviction that I could gain my objectives if I worked hard enough and long enough to develop beliefs that could overcome what seemed to be obstacles that one could not go around, over or thru. A feeling of gratitude for life and the opportunities came over me.