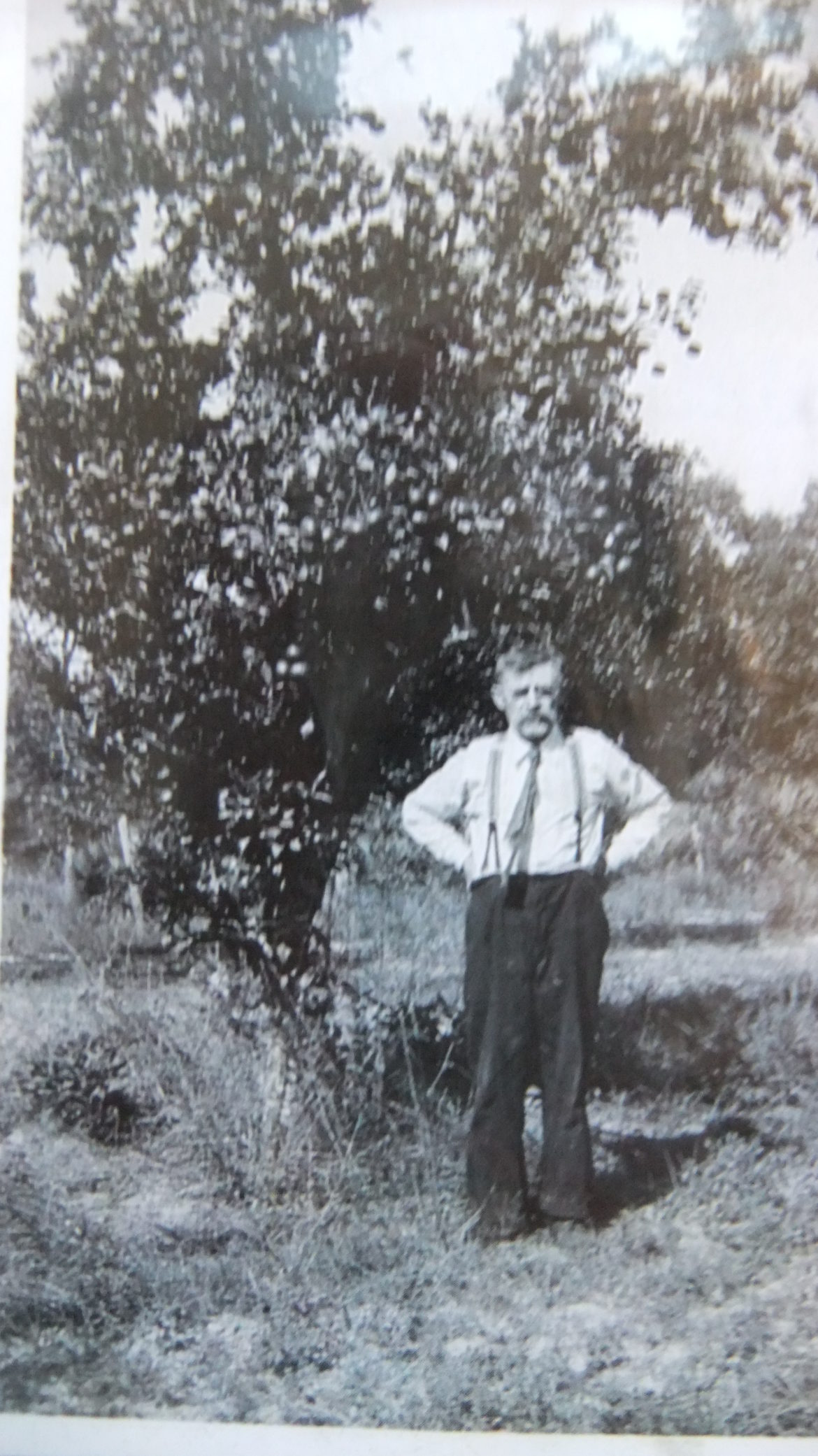 Hi Katrina Darsch,
Not sure if you knew that you were born on the same month and day as your Great-Great-Grandpa Humbke. This is a letter he might have written to one of his great-great-granddaughter/son to help them know him a little better.
I encourage you to know all 16 of your great-great-grandparents (paternal and maternal) and keep their memories alive. They have all lead interesting, unique lives and have contributed a bit to who you are. The more you know them the more you will see similarities.
Grandpa Humbke
______________________________________________________________________________________________
Happy Birthday Katrina,
I was born the same day as you, only I was born at home (house #57 in the village of Windheim, Germany on Oct. 30, 1867). It was the year Canada became a country and 153 years ago.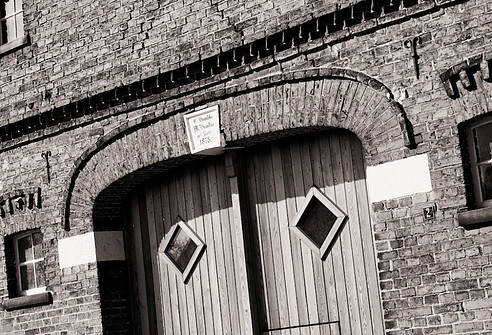 #53 (Humbke Residence) Windheim, Germany
A big event had just happened 3 days before my arrival. On Oct 27, 1867 my father and mother were married in the same home and I am sure it was because of me. If I had been born out of wedlock, I would never be able to inherit land from my father. My parents were very religious and attended the German Lutheran Village church where I was baptized 3 weeks later on Nov. 17, 1867.
My first 14 years were spent growing up in Windheim where I went to school, helped my mother with chores around the house, and worked with dad in the fields. Times were tough as there seemed to be a continual war going on and village males would be conscripted up to age 40 to fight. If I survived, I would always be a farmer, but the land had been divided among the boys in families so many times before, there wouldn't be enough for me to support a family.
My grandfather and father decided in 1879 to send my Uncle Chris (age 22 and the only one single in their family) to the New World to see if it was possible to get land. Chris homesteaded SE of White Lake, South Dakota and sent back such glowing letters, about getting 160 acres of land for $10, that my dad sent me to join him 4 years later. At age 15, I arrived in New York aboard the H.H. Meier on May 12, 1883 and immediately set out to join my Uncle in South Dakota. What a trip and adventure that was! My life was turned upside down and I was never to return to Germany!
                                                                                                                                                                         H.H. Meier
My father, mother, 3 younger sisters (Sophie, Minnie & Mary) and a brother, baby Dick, arrived on the "Neckar" in New York Aug 4, 1883. They spent a year in Buffalo Center, Iowa before coming to South Dakota where dad obtained a homestead and later became a citizen of the United States of America. Life was not all that good and Uncles Chris homestead was returned to the government for non-payment of taxes. My parents did better and two girls (Alvina & Emma) were born before they sold the $10 homestead for $1,000 before moving to the Titonka-Woden area of Iowa.
It was a long trip by horse and wagon, but well worth it as corn grew 8 feet tall on very productive soil and I managed to buy two quarters (320 acres) of land. I gave 3 acres of land for the building of a German Lutheran Church and Cemetery by founding Germans of which Dad, a brother-in-law and I were members. Two sisters married to local German boys and it looked like we were settled and would be Americans for life. All I needed at age 32 was a wife and we were living in a German farming community.
                                                                                             German Lutheran Church in rural Titonka/Woden Iowa – Shorter man on far right is me. To my Left  is my Dad.
Fate had something different in store for our family and on July 20 my father fell from a wagon load of logs when the horses were spooked while he was hauling logs for the building of the church. He died in the early morning hours of July 21, 1899, and our family had lost its patriarch. We were all in shock and disarray.
It was the 1900, the beginning of the Twentieth Century, In early 1900 I made the trip to Edmonton and Fort Saskatchewan where I joined a band of Indians as they wandered South in their search for food. After a couple of weeks we reached the Battle River where I claimed three homesteads on the Southern Bank in name of my mother, brother and myself. I hurried back to Iowa where we made plans to sell what we didn't pack in a boxcar and the whole family (except the oldest married sister who was farming with her husband) left for what was called the NorthWest Territories of Canada.
Still being single at 33 years old was an embarrassment and a disaster so I had written back to the Parish Church in Windheim asking if there was ANY girl in my Conformation class of 1882 who was still single. I would pay for her ticket, pick her up in New York, marry her and provide a home plus hopefully children in Canada. Luck would have it, a certain Mary had recently planned to marry, but the prospective husband had changed his mind and it looked like she would remain a spinster for life.
Who said you should fall in love and then get married – I say you should          say you should get married and take responsibility for raising a loving family!
Mary took the opportunity and on Jan. 1, 1902 I left for New York to meet her ocean liner. She had an absolutely terrible passage during which she had contacted a tape worm; lost 30 pounds; and was extremely ill on arrival. It took a long time to nurse her back to life and we didn't get back to our future 224 sq ft future home on the homestead on April 15th. We were both age 34 and wasted little time; were married on May 22, 1902; and had our first of 3 daughters, Erna, 15 months later. We had two more daughters, Elsie and Martha, in that small home until I managed to sell more of my land in Iowa and buy 320 acres across from the New Berlin one room school, and build a two story home.
In our new home we added 2 sons, Ernest Jr. and Lawrence, which were a tremendous help for me because at that time farming was mostly done by animal and man power.
I never participated much in sports, but both the family I was born into and my family were active musicians. Our main source of entertainment was dancing and my two youngest sisters, brother and I were all members of various community orchestras and bands. My two sons were accomplished musicians and played in local dance bands with cousins because they loved playing and they needed to earn extra money to assist in their farming.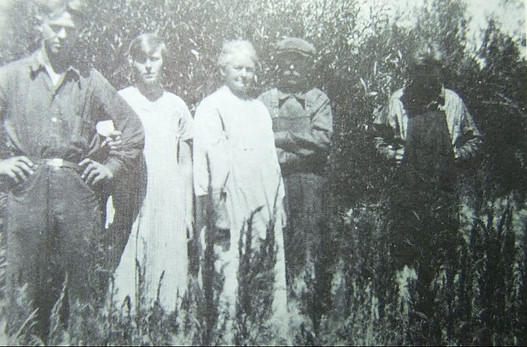 L to R Ernest Jr., Elsie, Mary, Ernest Sr. & Lawrence Humbke
From 1912 to 1914 I satisfied an itch to do something totally different and moved to Edmonton where ran a general store. It turned into a disaster because of the increasing animosity toward shopping at a German store and the treatment of the girls at school. We quickly returned to the New Berlin School District where he had the comfort and support of neighbors and relatives, both German and other nationalities.
Mary was a hardworking, devoted wife who was an excellent cooked loved her children and grand children. At age 35 she was even registered, during her first year in Canada, at the New Berlin School to learn English. We had a very good life and family.
Mary passed away on Feb. 16, 1944 from blood poisoning as a result of stepping on a nail and I spent the next 3 years staying at my older son's farm in the winter and my own home close to my younger son's home in the summers.
I passed away in my sleep in my own home on Sept. 26, 1947, just one month short of my 80th birthday. At the time of my passing I had 5 children, 21 grand children and one great-grand daughter. At my funeral in Wetaskiwin I had 4 brother-inlaws, a relative and a neighbor for pallbearers.
It is nice to see that my son has arranged for a new tombstone plaque to remember my wife and me by.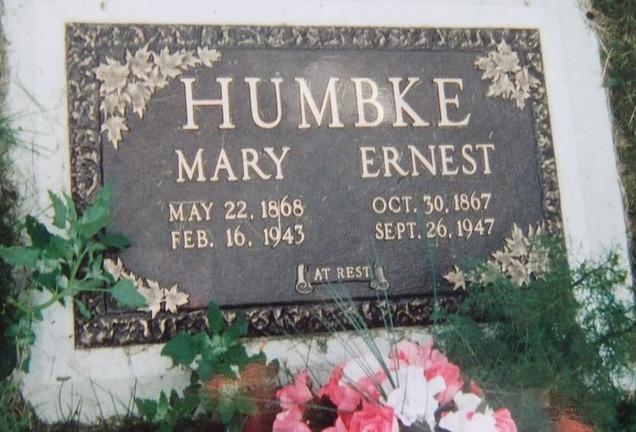 Best Regards,
Ernest Humbke Sr.